Biographies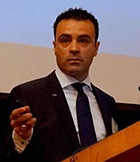 Miguel Román
Program Director, The Earth from Space Institute, Universities Space Research Association
Contact Information
Phone: 410-740-6267
Email:
Biography:

Miguel O. Román (WaPo Profile; Google Scholar Profile) is the founding director of The Earth from Space Institute (EfSI) - a program of Universities Space Research Association (USRA) dedicated to Earth system science and societal decision making.
Román currently serves as a NASA Terra, Aqua, and Suomi NPP's discipline leader, helping manage a worldwide group of investigators and technical staff in charge of generating long-term data records from the Moderate Resolution Imaging Spectroradiometer (MODIS) and the Visible Infrared Imaging Radiometer Suite (VIIRS);  two of the largest and most comprehensive instrument suites ever launched to systematically monitor our planet's vital signs.
Before joining USRA, Román served as a civil servant scientist at NASA's Goddard Space Flight Center, where he pioneered the iconic Black Marble - a suite of satellite products that provide daily global views of Earth at night, with an emphasis on tracking the signatures of recovery across underserved communities affected by major disasters. Román, who continues to serve in the role of Black Marble team leader, has also led international activities under the Committee on Earth Observation Satellites (CEOS) and the Group on Earth Observations (GEO). He is also a member of the US National Academies of Sciences, Engineering, and Medicine's Roundtable on Science and Technology for Sustainability – a high-level forum of senior officials and science leaders that share outlooks, information, and analyses related to harnessing science and technology for sustainability.
President Barack Obama named him a recipient of the Presidential Early Career Award for Scientists and Engineers (PECASE), the highest honor bestowed by the United States government on researchers beginning their independent careers. His writings have been featured in numerous news outlets including NPR, The Washington Post, NBC, The Economist, Telemundo, Smithsonian Magazine, and BBC World News.